Dr. Menker has the new CS 9000C 3D Panoramic and Cephalometric System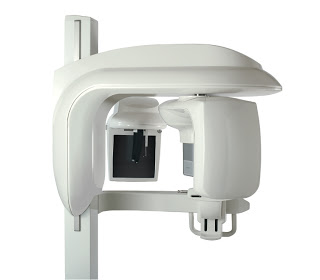 In an ongoing effort to provide you with the best care possible, our practice has invested in the CS 9000C 3D Panoramic and Cephalometric System. The CS 9000C 3D System is the ideal and complete diagnostic tool, blending cutting-edge one-shot cephalometric technology with high-quality panoramic imaging and 3D imaging capability, while using less radiation.
Panoramic and cephalometric images are typically the first step in orthodontic examinations and treatments, given their overall perspective of the patient's jaws, teeth and related anatomy. Our new panoramic system offers an open and airy design, making the experience comfortable for the patient. Cephalometric image acquisition with this new radiography system takes less than a second, thereby reducing exposure to radiation and the need of retakes due to patient movement.
The CS 9000C 3D System was designed to acquire 3D images on a specific dental region of interest, so I am able to target the exact area for the 3D exposure. Because a specific area is being targeted, the amount of radiation exposure is significantly reduced, delivering 10-30 times less exposure than other dental radiography systems.
Having highly detailed, true-to-life 3D images helps me provide quicker and more accurate diagnoses, improved treatment planning and better patient care. The added third dimension allows me to view and analyze root position or poor root development, conduct bone loss screenings, and evaluate tooth eruptions. Precise localization of impacted canines is also made possible by 3D imaging. Multiple slices allow me to view impacted teeth from various angles to best determine the method of treatment.
Benefits include:
High-resolution images – I can view your teeth more clearly
Less radiation – the new CS 9000C 3D system focuses specifically on the area in need of diagnosis
Comfortable positioning – when images are taken, you are positioned face-to-face with your clinician, making image acquisition more comfortable for you
Improved patient care – I can perform a wider range of diagnoses, helping you reduce multiple office visits, therefore saving you time and money
One-shot difference – cephalometric image acquisition takes less than a second, reducing your exposure to radiation and risk of retakes
We are here to provide you with superb orthodontic care, every time. If you have any questions regarding our technologies, feel free to ask myself or contact us.